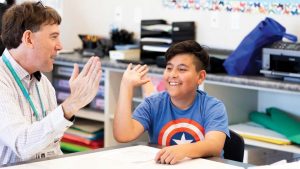 MTC's tutoring program provides individualized attention to students, assisting our local schools in meeting students' unique needs. Tutors support their students by working with them directly on the specific areas where they are struggling. Each year, MTC places volunteer tutors in Los Altos and Mountain View schools, from kindergarten through 8th grade.
MTC's Tutoring Programs Include:
One-on-one tutoring:  Tutors work directly with a student on a desired subject, typically math or language arts.  Tutoring is provided either in-person or online (via Zoom or GoogleMeet) during school hours.
Reading Fellows: Reading Fellows is an interventional program in LASD that matches tutors with students who are struggling to learn to read.  It involves an intensive training (in addition to our New Tutor Training) & provides a very structured format for tutoring in which the tutor meets daily with their student (4 days/week) for 30 minute sessions.  The sessions follow the same format every day.  Reading Fellow matches are a minimum of 6 weeks.  Reading Fellows originated from Teachers College at Columbia University & has proven to be very impactful for students & rewarding for tutors.
The 2022-2023 cycle dates for Reading Fellows are:
September 6 – October 6 (Refresher RF Training: Aug 30, 31 1-3 pm)
October 11 – November 16 (Training: Sept 27, 28, 29  1-3 pm)
January 18 – February 16 (Training: Jan 9, 10, 11  1-3 pm)
February 28 – April 6  (Training: Feb 13, 14, 15  1-3 pm)
April 25 – May 25  (Training cancelled for this session)
These dates and times are subject to change per LASD schedule adjustments.